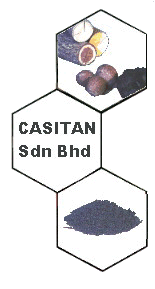 CASITAN SDN BHD
20 C, JALAN PETALING UTAMA 8
7th MILE, off JALAN KLANG LAMA
46000 PETALING JAYA
MALAYSIA
PRODUCTS
ACTIVATED CARBON is a porous carbonaceous material which contain a myriad of pores with surface area that range from 500 to over 1800 square meters per gram of the material, resulting in it's high adsorptive capacity of many different substances.

The product in powder, granular or pallet form is usually made from various types of cellulose or mineral based raw materials like coal, woodcharcoal, peat, saw dust, coconut shell, etc. ACTIVATED CARBON is an absorbent that is used in a wide variety of liquid and gas phase application such as water filters, waste water treatment, raw water treatment, decolorization, gold recovery, air conditioning filters, catalysts, cirarettes, gas masks, solvent recover, nuclear filters, and many more.
WE MARKET A WIDE RANGE OF ACTIVATED CARBON PRODUCTS:
COCONUT SHELL ACTIVATED CARBON from several manufacturers in Malaysia, Sri Lanka, Indonesia and India.

WOOD BASED POWDER ACTIVATED CARBON from Malaysia and Indonesia.

COAL BASED ACTIVATED CARBON (powder, granular, pallet) from (mainland) China.

SPECIALITY CARBON for specialized applications is also available from various sources throughout the world.
For more information on our products, please follow this link:
[ PRODUCT SPECIFICATIONS ]



TABLE OF MESH EQUIVALENTS

| | | | | | | | | | | | | |
| --- | --- | --- | --- | --- | --- | --- | --- | --- | --- | --- | --- | --- |
| mm | 4.75 | 3.35 | 2.36 | 2.00 | 1.70 | 1.40 | 1.18 | 1.00 | 0.85 | 0.71 | 0.60 | 0.42 |
| USS | 4 | 6 | 8 | 10 | 12 | 14 | 16 | 18 | 20 | 25 | 30 | 40 |
| US Tyler | 4 | 6 | 8 | 9 | 10 | 12 | 14 | 16 | 20 | 24 | 28 | 25 |
| BSS | 3.5 | 5 | 7 | 8 | 10 | 12 | 14 | 16 | 18 | 22 | 25 | 36 |
[ HOME | PRODUCTS | MARKETS | PHILOSOPHY | LINKS | E-MAIL ]