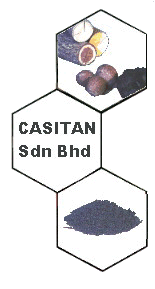 CASITAN SDN BHD
20 C, JALAN PETALING UTAMA 8
7th MILE, off JALAN KLANG LAMA
46000 PETALING JAYA
MALAYSIA
SERVICES
Our philosopy is not only to sell activated carbon, but to provide our clients with HIGH QUALITY products and a COMPETITIVE SERVICE .

QUALITY:
The products which we market are -
From reputable and reliable manufacturers with which we have been in contact for many years through regular visits to most of the factories.

We ensure that the product meets the customer's specifications according to industry standard.

When necessary, we inspect the consignment before shipment including those from India and Sri Lanka (conducted by our associate).

The manufacturers could also provide a certificate of analysis for all shipments as necessary.


We also provide the TECHNOLOGY as well as the TECHNICAL ASSISTANCE to some of the coconut shell activated carbon manufacturers through our associate from Sri Lanka, who is a well-known expert in this field.
COMPETITIVE SERVICE:
We have been involved in the activated carbon business for many years and have wide personal contacts throughout the world for the product with both the customers and the activated carbon manufacturers.


We enjoy good support and rapport with our customers throughout the world due to our excellent service and business integrity.


We are able to sell at competitive prices due to pur excellent relationship with the manufacturers throughout the region.


We are most familiar with the market and our customers' needs. Thus the activated carbon manufacturers and out customers appreciate our specialized role that we are able to service the industry and the market.


As a specialized activated carbon marketing company, we are able to service the industry and the market better than any single manufacturer especially since we are able to supply from several manufacturers and we woould also offer the full range of activated carbon products.
[ HOME | PRODUCTS | MARKETS | PHILOSOPHY | LINKS | E-MAIL ]