Eastern Dragons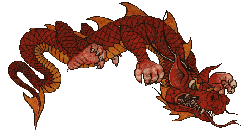 PHYSIOLOGY: These three species of dragons look very similar, but come from different parts of the world. They all have sinuous serpentine bodies, have four legs, they do not usually breath fire, usually shown not to have wings, but are illustrated to have them which is the Adult Imperial Dragon. The dragons are said to be made up of many different types of animals of the Earth: the body of a snake, scales of a carp (fish), head of a camel, horns of a giant stag (deer), the eyes of a hare (rabbit), ears like a bull, a neck like an inguana, belly of a frog, paws like a tigers, and claws like an eagle. Most of the time they are shown to have a lion-type mane around its neck, on its chin, and on each elbow. They have two antler-type horns decorating their wide-mouthed head, and two long "feeler" whiskers spreading out from their snout. Eastern dragons have 117 scales, 81 infused with yang, the good, and 36 infused with yin, the bad. This evens out the dragons temper and personality.
There are three families of Eastern dragons: 3 toed, 4 toed, and 5 toed. Three toed dragons are Japanese. Four toed dragons are Indonesian or Korean. Five toed dragons are Chinese. They are shown in the colors blue, black, white, red, or yellow. Oriental dragons are usually shown with a pearl in their mouth, under their chin, or in their claws. This is apparently where the dragon gets its power, and how it ascends to heaven. Roasted swallows are the Chinese dragon's favorite food.

HISTORY: In China dragons are known as Lung. There are four main kinds of Lung: Tien-lung , The Celestial Dragon: who protect the places of the Gods, Shen-Lung, The Spiritual Dragon: who control the wind and the rain, Ti-Lung , The Earth Dragon which control rivers, and water on the Earth, and Fut's-Lung , The Underworld Dragon which guards precious metals and gems. Separate dragons control the rivers of the North, South, East and West. The commander of all the River Dragons is Great Chien-Tang who is blood red, has a firey mane, and is 900 feet long.
Eastern dragons are portrayed as good, kind, and intelligent. Oriental Dragons have the most recorded history in the world, especially in China going back thousands of years. In history they have a very close link to the weather. It is said that some of the worst flooding in Asia's History were caused when a mortal has upset a dragon. In Chinese history, the 5 toed dragon is the symbol of power, and are considered "Imperial Dragons". Long ago, it became law in China that only the Emperor could have a five-clawed dragon displayed on his robes or illustrated on anything the Emperor owned. It was usually a Yellow dragon, thought to be the most superior of all the colored dragons. If someone other than the Emperor was caught wearing the symbol of the 5-toed dragon, he was put to death.
Eastern dragons are still shown in parades around the world celebrating the Chinese New Year with the Dragon Dance.
Common Dragons
These dragons compromise the basic western dragon body plan with four limbs, long neck/tail, a single pair of wings. They are homeothermic ("warm-blooded") but have an outwardly appearance that consists of mixing attributes of mammalian, reptilian, and avian characteristics. Dragons release excess heat from their bodies by panting or fanning their wings: only Runner dragons are able to sweat. Their bones are light like a bird's yet immensely strong. Most species are coated in a full or partial hide of protective scutes and scales, which are often highly decorated with colorful markings or elaborate growths of bone and cartilage (i.e. the jagged ridge of bone that is present in nearly all species.) The wings of species gifted with flight are incredible, leathery structures that are, in effect, a third pair of limbs. A second set of bones, muscles, and tendons remarkably similar to those of the forelimbs, yet enlarged and lengthened, power and support the wings. The wingfingers are draped in a thick, tough leather that forms the wingsails, wing area, and lift required for the beasts to stay aloft. As a general rule, the wingspan of a flying dragon is about twice the dragon's total length.
Courtship and mating varies greatly between the multitude of types. Many species are solitary and it mating seasons may be decades apart. Runner dragons and sailed dragons will mate yearly. Nearly all species are egg-layers, but the horse-like Runner Dragons give birth to live young. Gestation/incubation time depends on the size of the species. The smaller dragons take only a few months to hatch or emerge from the mother's womb, while the spawn of the great dragons may incubate for years. Most dragons of any type are caring parents and fiercely protective of their young. Mated couples will usually stick together, but in less intelligent races, the two drift apart once the young has learned to fend for itself.